WPRU Artifacts Reveal Station's Early History
If there's one thing I've learned since initiating this history project, it's that once the research bug bites you, the related fever is hard to shake. Case in point: these just-rediscovered artifacts from the mid 1940s, when WPRB (then called WPRU) was still in its infancy, which sent a considerable thrill up my spine. A huge part of the fun of digging into the deepest recesses of the station's history is noting how doing so keeps moving the marker for the oldest-known (document/photo/recording/etc) further back.
While we have unearthed a few yellowed letters and documents from station founder H Grant Theis that detail the plans which lead up to the station's launch in December of 1940, the assortment of scans presented here offers one of the oldest-known insights into what the station's programming was like.
These clippings were discovered by current WPRB staffers Zenala and Misha in the bottom of a filthy file cabinet during an otherwise routine cleaning project. The documents were actually sent to the station back in 1992 by Stanley Abensur '42. Huge thanks to Stanley for anticipating their relevance 25 years ahead of time, and to Zenala and Misha for bringing them to my attention!
Without further delay, we are pleased to present the following:
Exhibit A: Early floorplan of the station's old studios in Holder Hall. (See above)
Exhibit B: Solicitation postcard circulated to students of the era. (Key phrase: "Work Your Way Up In Princeton's Revitalized Post-War Station")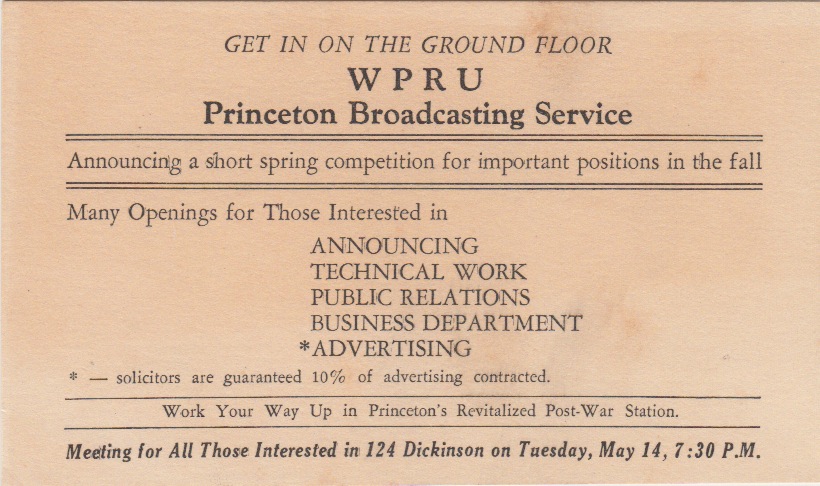 Exhibits C and D: Daily air schedule from November 26th, 1945 + a Daily Princetonian story promoting a WPRU listener poll coordinated with the Intercollegiate Broadcasting System. (IBS)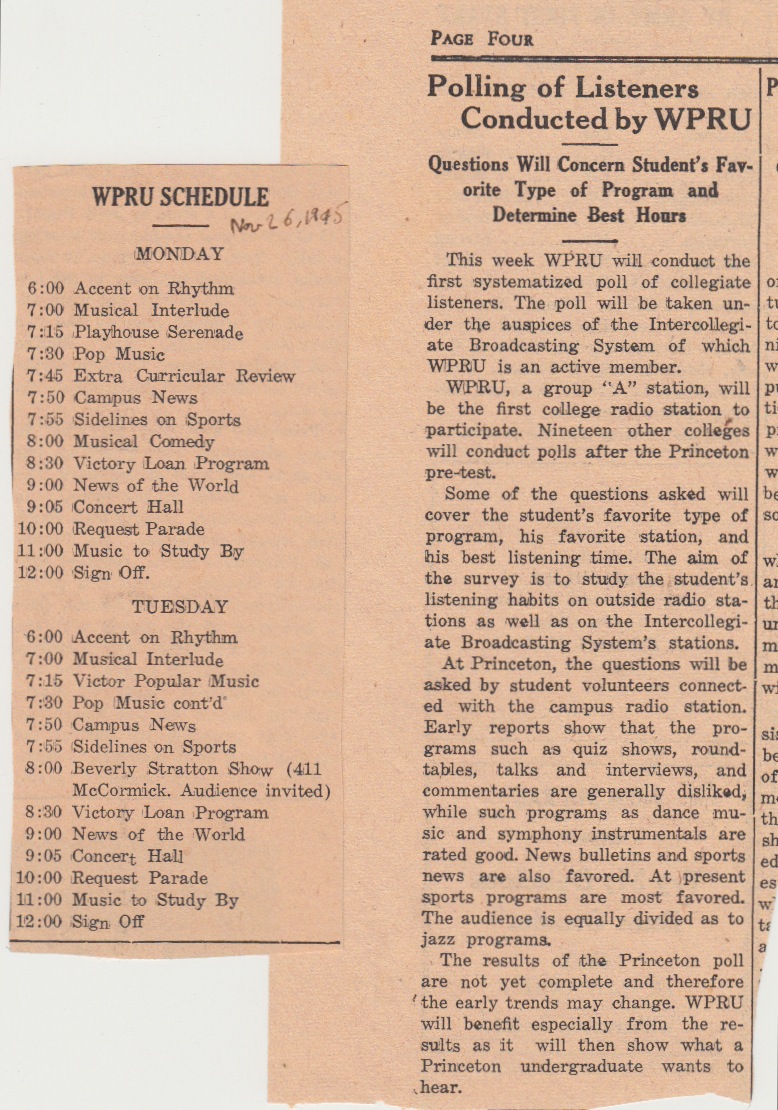 (Sample text: "Quiz shows, roundtables, talks, and interviews and commentaries are generally disliked, while such programs as dance music and symphony instrumentals are rated good.")