1949 WPRU Sign On—Awaiting "the Magic Hour"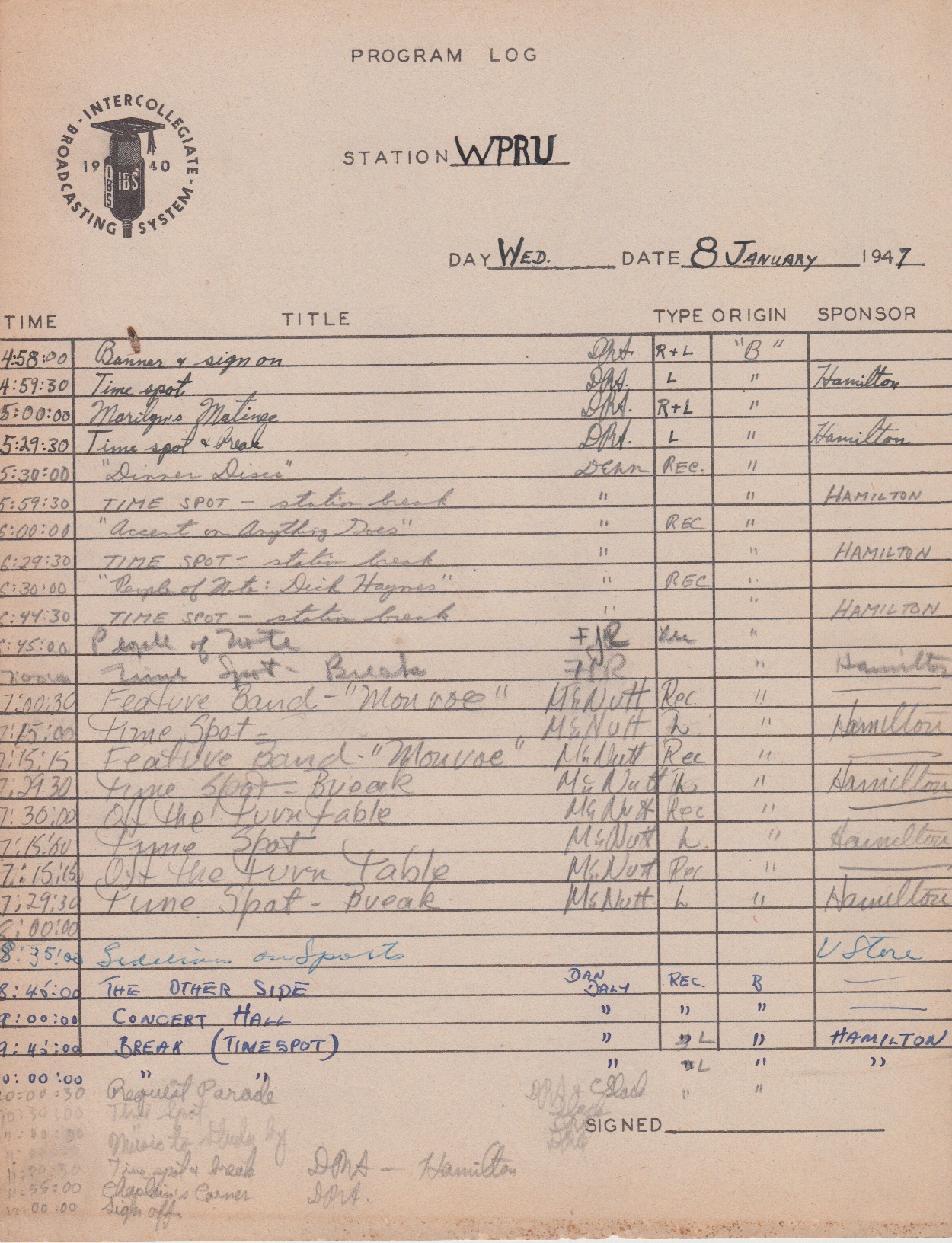 [By Nelson Runger '53]
I drew the job of morning man in September of my freshman year, 1949. I had about an hour's instruction the day before my debut—all about how to turn the station on in the morning, etc. There was no separate engineer. I was the whole staff on duty.
I cajoled my three suite-mates to get up and listen to my debut (which was a three-hour stint that began at 6:00 a.m., as I recall.) I showed up about a half-hour early, turned on all the switches and gauges I had learned the previous day, selected the records I would play during the first hour, read over the FCC announcement that had to be read aloud at the beginning of the broadcasting day, cued up the Star Spangled Banner, and awaited the magic hour. (Ed note: The routine steps of morning sign-on, then as now, are required to be chronicled on every radio station's daily programming log. See above for example from roughly the same era referenced in this story.)
At 6:00, I played the national anthem, read the FCC announcement, and launched into my three hours of recorded music, zippy banter, occasional news items, (mostly read from that morning's Daily Princetonian), and frequent solo work on the Jew's harp (also called a mouth harp and a jaw harp.) At the end of my three hours, I turned the station off, there being then a period of some hours before the station went on the air again.
I rushed back to my room and found my three suite-mates staring glumly at me. They hadn't heard a thing, the one switch I had forgotten was the one that turned the transmitter on.