The Fall / Mark E. Smith / WPRB Mega-Post
As you've probably heard by now, Mark E. Smith, the leader of iconic post-punk stalwarts The Fall, passed away last week at the age of 60. His health had been in decline for some time, as evidenced by the band's last two American tours being abruptly canceled, as well as recent stage entrances being made by wheelchair.
Within the pantheon of WPRB, the Fall are an act of unique prominence. I can't think of another cult band that's existed continuously for so many years and which has been adored by so many WPRB DJs spread across four different decades. As such, when the news of Smith's death broke, I started seeing a lot of Fall-related waxing from current and former PRB folks in my social media feeds. (A trend including content from early 80s alums, as well as folks who graduated from college as recently as two years ago.) This post attempts to gather as many of those images, words, and related gushings as possible into a singular MES/Fall/WPRB content depot.
Before we go any further, let it be stated quite clearly: Mark E. Smith was a hugely problematic character. He was arrested and charged with assaulting bandmate Julia Nagle in 1998, and there are numerous accounts of awful behavior on his part over the years. But as he was the only constant member of the band through countless lineups, any notion or idea of the Fall continuing without him is simply absurd. (As Smith once famously declared "If it's me and yer granny on bongos, it's the Fall.")
As such, think of this post not as a deification of Smith—a man whose inexcusable actions should be neither forgotten nor sugar-coated—but rather, a summary of how his band's music shaped the lives, experiences, and musical travels of so many WPRB DJs across multiple generations.
To begin, I present the above slideshow which comprises fresh scans of every piece of available Fall vinyl from WPRB's record library. (Except the 'Slates' 10″, which I forgot to grab before hoofing all those records across town to scan them… apologies.) Many of the hastily taped (and re-taped) spines should give you a sense of how heavily WPRB's airstaff has hit these LPs over the years. Note that you can pause the slideshow by mousing over any of the images.
Below are other various Fall-related pieces of media and writing from or involving a slew of WPRB DJs from the 1980s-now.
RIP Mark E. Smith. And farewell to a criterion WPRB band.

1. DJ Henry Yu (on air 1980-1984 as one of the "No Future Glimmer Twins") submits this image from one of his college-era school folders. A nice twist on Princeton University's black and orange color scheme.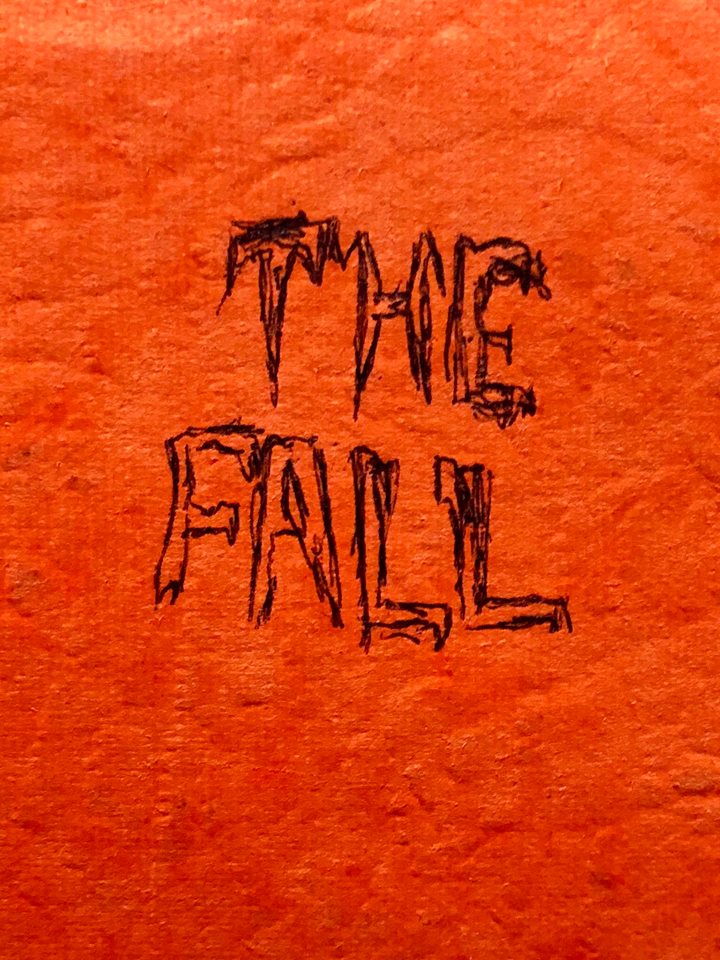 2. From DJ Chris Mohr (on-air 1984-1988) we offer a treasure trove of Fall content. Up first, this aircheck intro from a 9/5/85 All-Fall edition of WPRB's Decline and Fall, which was the station's weekly punk/hardcore show throughout the 1980s. Decline had multiple hosts over the years, and occasionally, DJs would host special All-Fall editions of the program. Chris writes: "I didn't create the All Fall Decline and Fall… I heard it first when I was still in high school! Its creator might have been Todd Hess. Mark Dickinson said he hadn't done it, otherwise he seemed the most obvious candidate, because he often hosted [the show], and was a huge Fall fan."
[Download]
And here is the extended promo for the All-Fall Decline and Fall, which aired on WPRB the week preceding the actual broadcast.
[Download]
Chris also dug up audio of two long-lost station IDs recorded by members of the Fall.
[Craig Scanlon station ID – Download]
[Paul Hanley station ID – Download]
Also from Chris Mohr, here's aircheck audio of his interview with the Fall's Craig Scanlon (airdate 2/28/86).
[Download]
Chris adds the following Fall/WPRB-related anecdotes:
When I got my Princeton acceptance letter, I called WPRB and requested "A New Face in Hell," which DJ Ray Gonzalez played. On the air Ray announced the track by saying, "For someone who today had a very good day, he found out he got into Princeton University, and requested 'A New Face in Hell' by The Fall. A more appropriate request I can't think of."
I also got to hang out in Brix and Mark's hotel room in Trenton and was a temporary roadie for the Fall at City Gardens. Brix's stepsister was a year ahead of me and my roommate that year knew her from high school. He heard me complain I couldn't go to the show because I was underage, so he introduced us, and we went to meet Brix & Mark at the hotel (Holiday Inn, maybe?). They let me carry guitars in so I wouldn't get carded. Great show–it was not long after "The Wonderful and Frightening World of The Fall" came out.
And here's a photo of me on the air at WPRB in my Fall t-shirt. (Purchased at City Gardens during the tour for "This Nation's Saving Grace".)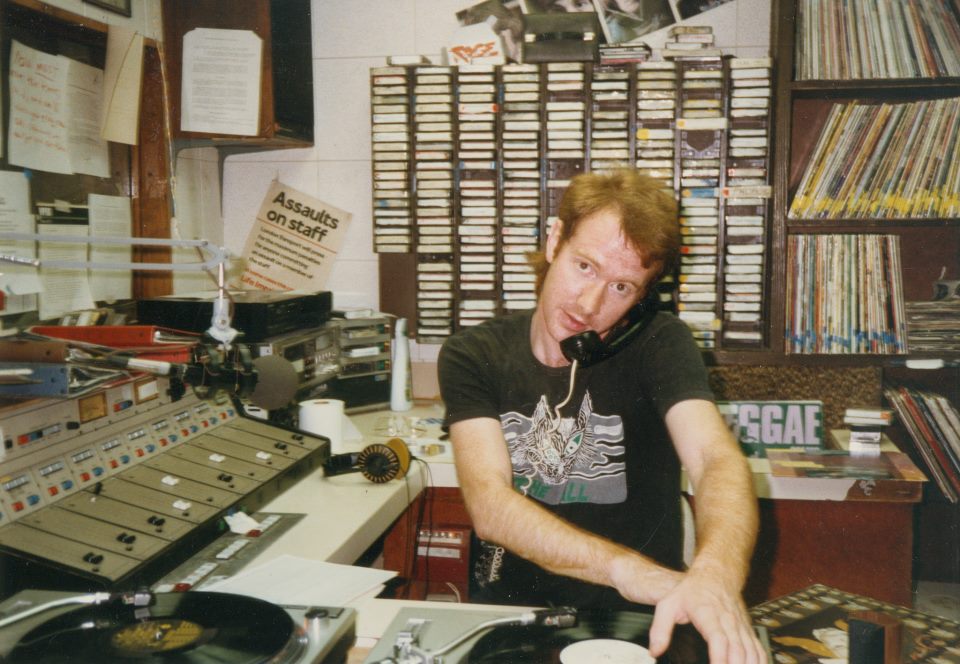 3. DJ Jane Hoeffner's "All Fall Decline and Fall" cassette J-Card, airdate 9/9/87.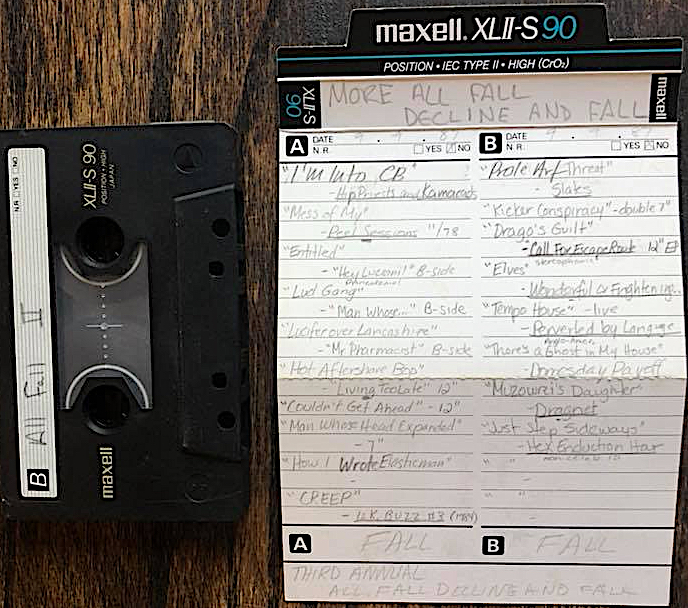 4. From Andy Newman (class of 1986), who hosted WPRB shows "The Ant Farm" and "The Pause Button", we have this personal letter penned by Mark E. Smith. Andy says: "In 1983 because there was no internet I wrote Mark E. Smith a letter asking for some lyrics and what "Rowche (Rumble)" means and he wrote back." (On stationary from NYC's Iroquois Hotel on 44th St., no less.)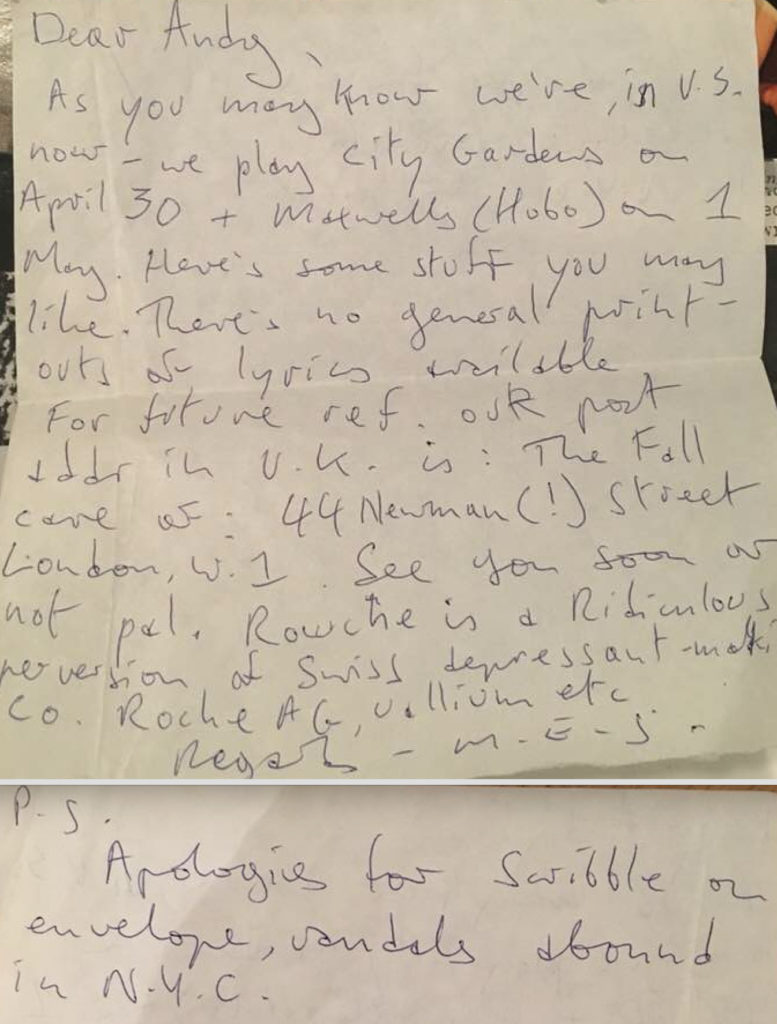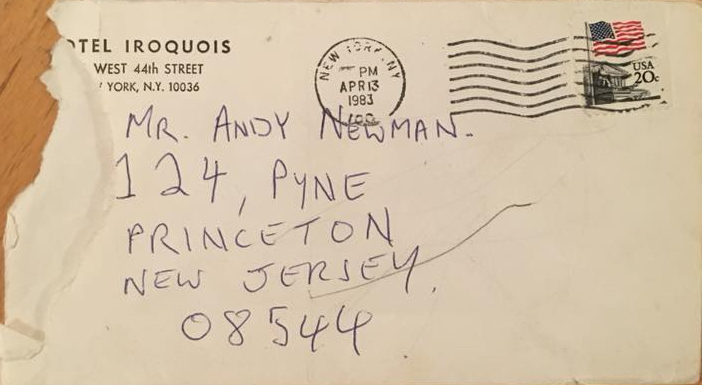 5. Totally Wired vs. TOTALLY WIRED. Over the years, WPRB has been home to not one, but two shows called "Totally Wired", the name and theme borrowed from one of the Fall's most well-known hits. Totally Wired's first incarnation was as a British indie/import specialty show hosted by grad student Christian Perring (and later continued by Hugh Hynes, on-air 1991-1995). This version of the program aired on WPRB during the late 80s and early 90s. Here's the promo.

[Download]
25-ish years later, DJ Chester Dubov (on-air 2011-2015) used the name for his more punk/hardcore-leaning show, and made an indelible impression on the WPRB listenership with his frequently shouted mic breaks. Here's Chester's promo for his incarnation of Totally Wired.
[Download]
6. DJ Greg Lyon interviews Mark E. Smith at Maxwell's (Hoboken), 2004. (Pictured, below.) Greg says: "I was scared out of my mind beforehand, but it went swimmingly, and at the end he said, 'I rather enjoyed that!' and promptly downed his 6th double scotch."

Also, note the glove.
[Download]
7. April 1998 WPRB Aircheck with DJs Greg Lyon, Jen Moyse, and Mike Lupica discussing the Fall's onstage brawl at the Trocadero, several nights prior to the now-infamous Brownies debacle in NYC. (You can read more about this incident here and here.) Immediately following this late night broadcast, the studio phones blew up with calls from other listeners who were either at the show, or were learning of the events for the first time. Many of them called to add to or dispute the details deployed on air.
[Download]
8. Local singing telegram performs The Fall's "Hip Priest" on-air for DJ Greg Lyon as a birthday surprise stunt paid for by other WPRB staffers. Click here for the full story.
9. And here are all the mic breaks from Greg's spotlight on the Fall, which originally aired on WPRB on 9/29/02. If it hasn't yet become evident, Greg is sort of our resident expert on all things of or relating to the Fall.
[Download]
10. DJ Matthew Robb (on-air 1990-1994) writes: I was a Fall-watcher from the margins rather than a truly devoted fan. But they were no less a touchstone for that – they are clearly a core component of the station's aesthetic, musically and graphically (e.g. there are no Pavement records without Fall records, in every sense).
In that weird post-Nirvana moment when everyone was looking for the Next Big Thing, PRB would regularly play "Peel Out in the States" – a well-intentioned, if odd and from today's perspective archaic gesture in sending actual physical CDs of John Peel DJ-ing about 30-40 minutes worth of tracks that someone (maybe even him!) had deemed of interest for a US market. One of them included a Fall cover of a Creators / Lee 'Scratch' Perry single, "Kimble!" It's shambly, loose, infernally catchy – I entertained the idea that if we played it enough there would be millions (ok hundreds) (ok dozens) of kids walking down the street going "I'm Kimble!"
I loved Fall covers – "Victoria", "A Day in the Life" – and leaned heavily on "Marquis Cha Cha" throughout my DJ-ing years.