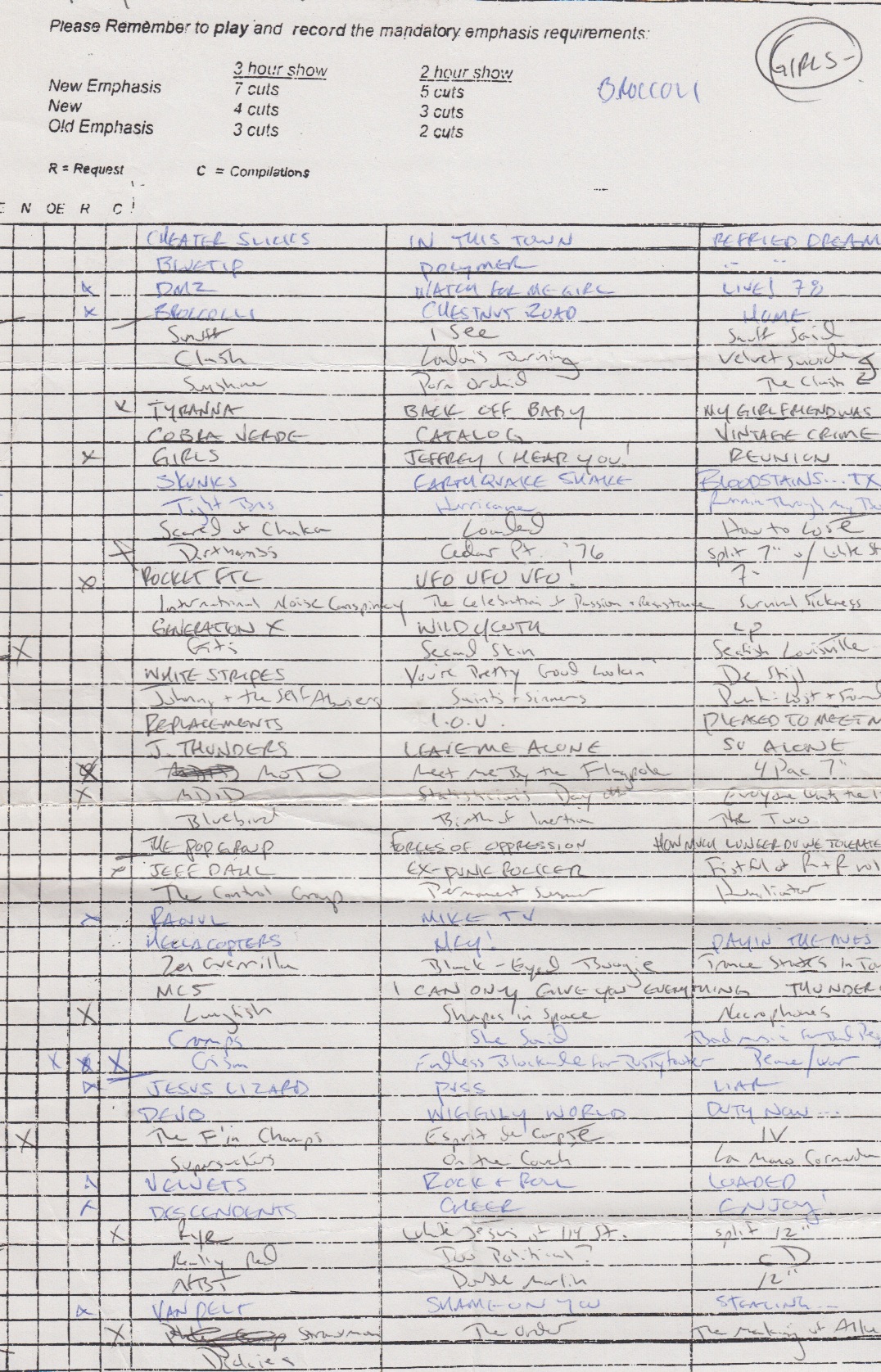 [Words: Jen Moyse '94. DJ 1990-1999. Music Director 1992-94. Image: Original "Hey You Kids" playlist]
As I sit here trying to decide how to approach getting my thoughts on WPRB to paper, I'm browsing through my iTunes library, trying to identify which in my enormous virtual collection of albums I feel like hearing right now. I glance over to the bookshelf housing my 1000+ vinyl library, and back to the living room, where I still have an embarrassing number of CDs (in sleeves now) and 7" singles stored discreetly in not-terribly-unattractive boxes for easy access.
The cassettes, including a full box of recordings of Hey You Kids, Get Off My Lawn!, the show I delivered weekly with Mike Lupica for many years, are stored in the closet, since I long ago disconnected my cassette player. Which, now that I think of it, is still lodged deep in the closet as well.
The external hard drive includes a stash of music I haven't even organized yet.
This is all WPRB's fault, and I love it. It's been 25 years since I arrived at WPRB, and I've been a different person since. And not just because of this wall of music. I can genuinely say that the station has influenced my life more dramatically than just about anything else (hi, Mom and Dad!).
Thanks to some older friends from my hometown who had been taking me to shows and dabbling in radio at their own schools, I arrived at Princeton determined to seek out the radio station. I certainly had no idea at the time that WPRB was the oldest commercial college station in the country.
I'm pretty sure I found a WPRB booth during orientation, and I quite honestly still can't figure out how my very shy 17-year-old self mustered the courage to show up for training, but it happened. And there in my first days of school, I got a face full of radio magic, realized I knew absolutely nothing about music, and dedicated myself to impressing the cool kids who were running the place (I was terrified).
At some point, I got on the air for the first time, probably around 2am, with my fellow trainees. We each played a 4-song set and fumbled a single mic break. I am 99% sure I played Soulside, Snuff, and something off of Paul's Boutique. All still favorites. I sounded like a robot.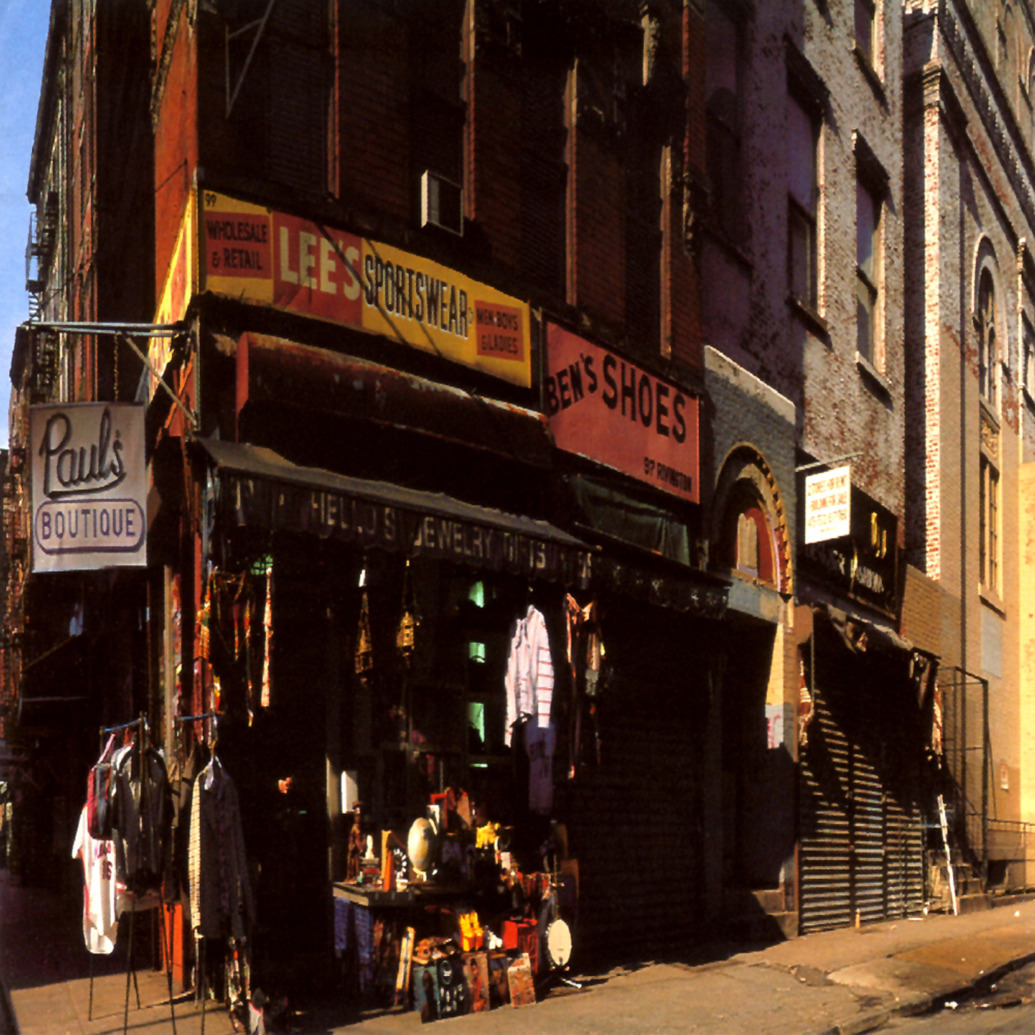 In that first week I also met my now lifelong friends Sean Murphy and Matthew Robb and Jon Solomon, with whom (only a couple of years later) I'd help manage the station, when I became music director. I'd learn a lot more about music by then, but more important, I'd learn how to think about music in WPRB terms. Music you can't hear anywhere else!
I still marvel how much music you can't hear anywhere else.
WPRB for me wasn't just about showing up once a week and punching out a show; it was about community. There was the community of fellow DJs, with whom I spent countless hours locked in Holder Hall opening mail, sorting records, arguing the relative merits and virtues of the bands we each loved that week or that instant, and digging up trivia about whichever teeny bands had crossed our radar. We all had our own tastes but shared a need to tell everyone about our favorite bands.
We went to shows constantly, at City Gardens, at Maxwell's, sometimes in New York or Philly or Jon's house, and always at Terrace Club, where we booked bands I still can't believe I saw in my dining room. (I later also became president of Terrace.) Jawbox, Quicksand, Helmet, Guided by Voices, Spectrum, Stereolab, the Ohio Players, Pitchblende, Eggs, The Poster Children, Pansy Division, Girls vs. Boys…seriously? What's criminal is that I can't even remember all of the shows.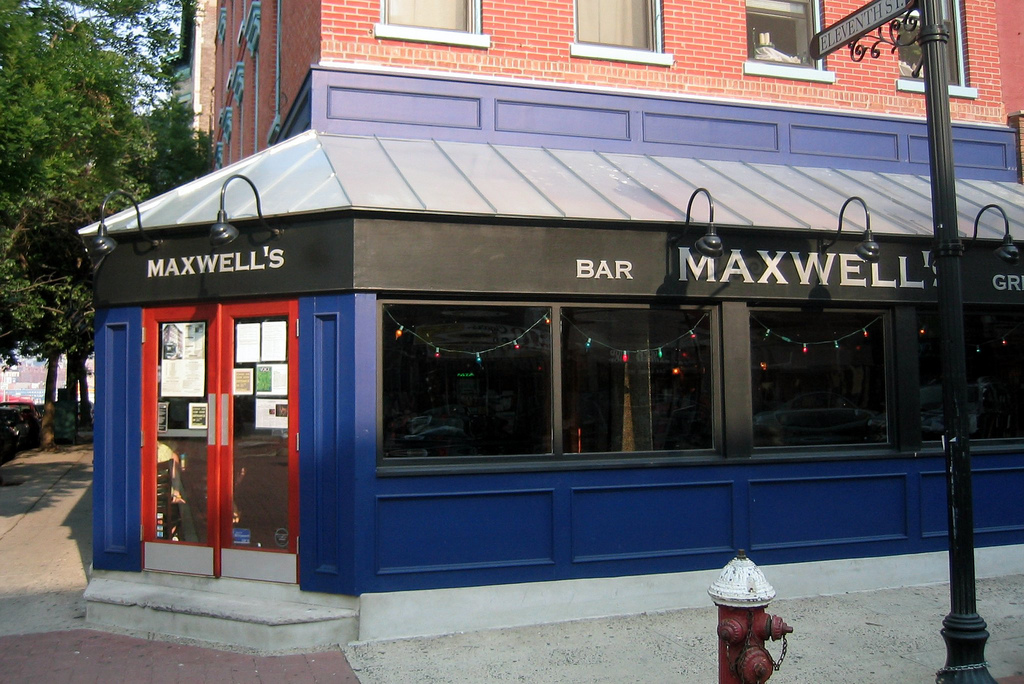 [Maxwell's image via. CC BY-NC-ND 2.0]
We sold lousy records so we could buy better ones for the station's new emphasis bins. We haunted record fairs, record stores, and garage sales, and nerded out on our conquests. We filled in for each other when we had urgent schoolwork to attend to, and teamed up for one-off or longer-term shows. Sean Murphy and I did a weekly show for a semester in which we simply tried to play as many songs as possible in 60 minutes, including mic breaks. We played a lot of 45-second hardcore songs, editing the bad words and sweating over hilariously abrupt segues. It was exhausting and hilarious. Many of our requests came by mail from prison.
But there was also the community of former DJs — all those initials on the record reviews in our stacks who taught me so much about older bands, and made me sound like I knew what I was talking about (more or less) on air. The community DJs themselves — Mike, Jon, Wilbo, John Weingart, Dr. Cosmo — who drew diehard fans. The jazz people and the classical people and the avant-garde people, who were the jazz and classical and avant-garde communities in New Jersey. Even the sports guys had a dedicated following.
We didn't have much in the way of Internet back then, and certainly no social media, but we had an enormous community of listeners who wrote letters, called once or regularly, sent records, quoted us in fanzines and music magazines.
Despite that I was studying comparative literature, and really should have been focused on learning new languages, I decided not to take a junior year semester abroad. There was no way I was leaving the station. I don't regret the choice for an instant, even if I didn't make it out of the country until well after graduation. I did thank Jawbreaker in my senior thesis.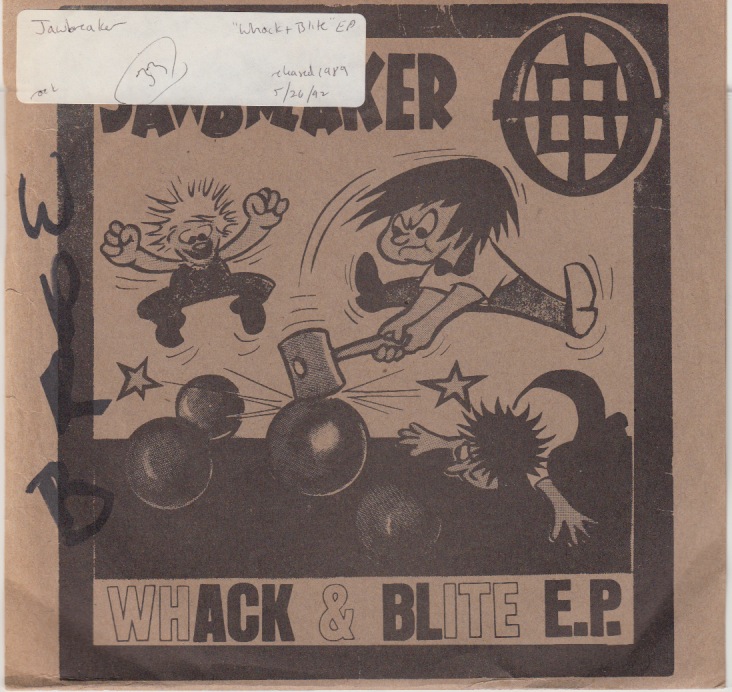 [Above: WPRB's copy of Jawbreaker's "Whack & Blite" 7″. Purchased at Pier Platters, Hoboken, NJ, 1992]
I remember working on our weekly playlists and running across campus to make sure they were delivered in time to submit them to CMJ. Talking with label reps, and trying to explain to them why we wouldn't play their band. One [record company] guy offered up the entire Slayer back catalog in exchange for my just listening to the Stone Temple Pilots. (I accepted. We still didn't play the Stone Temple Pilots.) I was on a panel or two at the CMJ conference with representatives from other amazing stations, on which I discussed WPRB's philosophy around what makes good radio. We all took this very seriously.
I had a late-afternoon show my sophomore year. I don't think it had any theme, but I was apparently on a goofy punk kick, and played the terrible/amazing D.I. cover of Devo's "Uncontrollable Urge." When I got back on air, I discussed seeing D.I. as a teenager at the Rat in Boston, and made a public call for someone to locate the hard-to-find 7″ for me. I'm sure I meant it, but I was also more than surprised when a listener called immediately and offered to bring me his copy.
I still don't know why this made sense, but I invited him to come down to the station. And this is how Mike Lupica and I became friends. The D.I. Surfin' Anarchy 7". I still have it.
Mike and I started doing Hey You Kids! maybe around 1993 and, after I graduated in '94, not only continued to do our show — driving an hour each way from where we both lived in North Jersey every Saturday night — but also started working on our fanzine, Green Means Go!, which exposed me to even more terrific (and terrible) bands, introduced me to a new community of fanzine writers (the bloggers of the '90s), and basically sealed my by now obsessive dependence on music to keep me sane. We put out six issues packed with interviews, tour diaries, personal essays, and loads and loads of record and show reviews.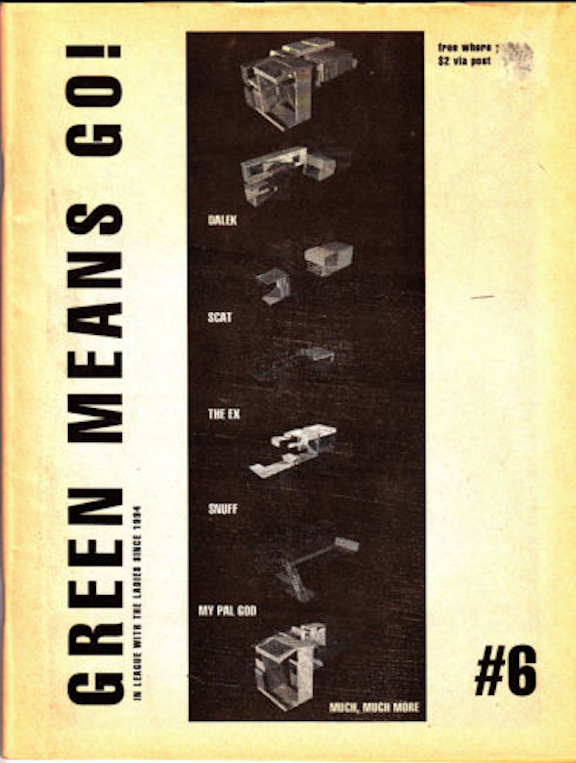 I'll never know how many listeners Hey You Kids! really had, but we developed a core audience of regulars, who checked in weekly and supplied us with stories, moral support, and phenomenal requests. Recycling Ed checked in weekly just to say hi, and scolded us if we missed a show. Listener Marty sent us his comic, Things I'd Rather Do Than Go to School Today, which to this day makes me laugh out loud. A band called Cold Crank sent us their (pretty great) album, which included a theme song they wrote for us, "Green Means Go!" Two teenagers we affectionately called the Dischord Girls called weekly to dedicate DC punk songs back and forth to one another. One of those teenagers was Julia Factorial, who later became a friend, WPRB DJ, and professional community-radio advocate.
What blows my mind is that we still occasionally receive mail from listeners who thank us for helping to shape their own musical tastes, or just for entertaining them every Saturday night for a bunch of years. An acquaintance not long ago figured out I was from WPRB and asked if I was that Jen, of Jen and Mike and Hey You Kids!. And someone recently surfaced on YouTube a recording of one of our mic breaks — not even the music, just the talking. I was astonished.
Of course I'm delighted and proud to share when asked that yes, I did work at (and, for a time, help manage) one of the oldest free-format stations in the country. For almost a decade, I had the privilege of blasting over 30,000 watts across New Jersey, Philly, and well beyond whatever took my fancy at the moment. Classic hardcore, twee indie, weird jazz, "arcana," 70s art punk, DC/Dischord anything, '50s girl bands, doom metal, experimental noise, Detroit rock 'n' roll, messy hotrod garage, goofy homegrown tantrum snot-rock, riot grrl, underground hip-hop, Cleveland bar rock…. Mike and I made up our own genres (Kent McClardcore, beardcore), and adopted others' brilliant inventions, Pastacore (from Florida, of course) still reigning as my favorite.
And listeners called to talk to me about it all! I got letters from prison!
The middle of the dial! Considering the poor showing commercial radio has displayed for many, many years, it's not surprising that WPRB can still raise its fist up there at 103.3 and get noticed. But I still marvel that WPRB could even exist, much less that I was able to be a part of it.
So what does WPRB mean to me? Friendship, family, a deep love for music. I never developed an encyclopedic knowledge of music trivia like some of my peers, and it's a lot harder for me to discover new bands these days. But I still see music frequently, obsess about new records, and can't leave the house without a pair of headphones jammed in my ears. Thanks to streaming, Jon's 24-hour Christmas show is still a mainstay in my holiday tradition, two decades later. And there's that daunting record collection.
Did I contribute? I like to think I did, even if only by reviewing hundreds of records during my years at WPRB. (I hope the current DJs learn to trust the initials "JM" the way I trusted the DJs before my time.) I never learned the business ropes, I rarely visited the transmitter, and I couldn't even pretend to splice together a recorded PSA. But with WPRB I was able to share what I desperately loved and learned and experienced with many I got to know and many more I will never even meet.
That opportunity was and is even now humbling and extraordinary, and I am still so grateful to the station and everyone in it before and after me who has helped make that possible.