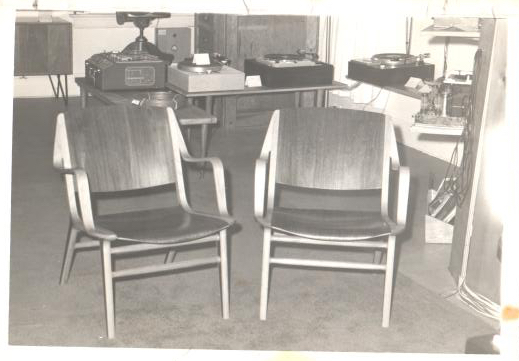 I recently received a CD-R containing WPRB airchecks from station alum Peter Charapko. He writes:
"Enclosed are two copies of programs of mine, May 16 1969, and October 4 1969. They include musical selections, news and public affairs announcements, and discourse typical of our progressive rock "animate sound" daytime format. Significant for me, and for many of the students, these two shows bracket the summer before and after [Princeton] University beginning coeducation… That summer, many of us at the station [also] attended Woodstock."
He goes on to describe various aspects of WPRB during this era, including daily life in the station's then-home in the basement of Holder Hall:
"Studios and business offices were below the eleventh entry of Holder Hall. At that time we conducted 'voice tests' to qualify for a broadcast program; most shows were engineered by the announcer, who also switched to an adjacent studio, for example, to news reporters. Candidates trained several weeks with other announcers before [earning] FCC Third Class Licenses. As Chief Announcer during 1970, I was privileged to be able to phone announcers on the air—usually to compliment, and at times, to offer constructive critique."
Nearly 50 years later, Peter seems well-suited to this task, as he has the cool and laid back vibe of that era's most fondly-remembered broadcasters. Embedded below are a few (scoped) samples from Peter's contribution to the growing WPRB History Archives. Look for more in a future post!